About
The California Grain Campaign is one of many initiatives across the country with the common goal of taking grains out of the world-wide commodity system and placing them into a regional, sustainable, food system.  In the process we hope to increase transparency, diversity, and knowledge of the crops that grain-growers are planting, harvesting and marketing in California.
The Campaign began in the Fall of 2016 when farmers Mai Nguyen and Nate Siemens, miller Nan Kohler, baker Dave Miller, advocate Leyna Lightman, and farmer's market manager Diana Rodgers came together behind the idea that grain processors (bakers, pasta makers, etc.) selling food in the state's farmer's markets can, and should, play a role in supporting the region's grain growers.
A robust regional grain economy depends on knowledgeable farmers, producers, and customers. We've collaborated with a number of individuals and businesses to:
establish the 20 x '20 Campaign (20% local whole grain by 2020)
run our traveling 20 x '20 Roadshow booth and reach over 1,000 people
publish two editions of our annual California Grain Catalog
put on two Small Grains Field Days for area organic farmers looking to share experiences and expand their knowledge base about cultivation to post-harvest handling
produce educational material about baking with local whole grains, varieties commonly grown in the state, and specific applications for those varieties
We hope you will join us in strengthening and enriching our regional grain economy by supporting the California farmers and producers who work hard to bring you healthful, whole grain.
Core Team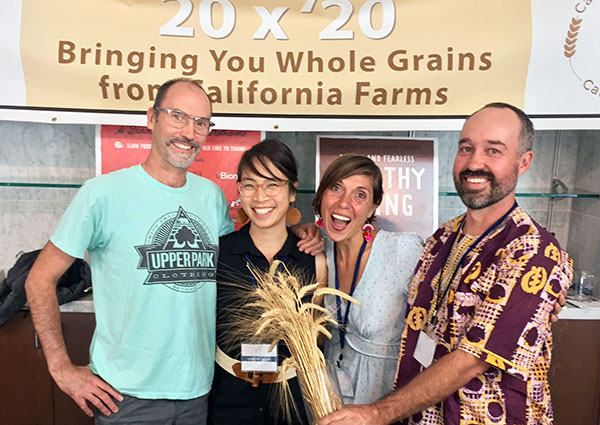 Dave Miller, Mai Nguyen, Leyna Lightman, Nate Siemens